Shoei RF-1200 Brawn Full Face Helmet
TC-1
Around every corner is a brand new adventure, and with that comes the uncontrollable desire to push the limits while exploring the exciting unknown. We at SHOEI know that feeling quite well, which is precisely why we never stop pushing progression within our line of premium motorcycle helmets. Enter the all-new RF-1200 Helmet. With a world-class team of designers and engineers leading the charge, SHOEI utilized its 55-year wealth of knowledge, state-of-the-art wind tunnel facility, proprietary materials, and the industry's most stringent quality assurance practices to develop the next-generation RF. A lighter, more compact, streamlined helmet with next-level functionality, SHOEI's RF-1200 has evolved the pursuit of perfection to an all-new level.
TECH SPECS:
Design Concept
Wind tunnel tested and developed shell design

More compact and aerodynamic shell than its predecessor

SHOEI's lightest 2015 SNELL-Certified full-face model to date

Optimal shell aerodynamics and liner components reduce unwanted road noise
Ventilation Performance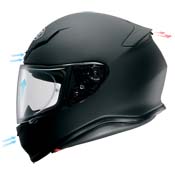 Wind tunnel-optimized adjustment provides the perfect balance between airflow and silence

Large 3-position lower vent shutter for ease of use with riding gloves

Three upper air vents for optimal air intake

Four uniquely-positioned upper exhaust vents yield improved negative pressure suction

Improved cool-air intake and hot-air expulsion
CWR-1 Shield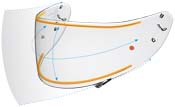 Protects from 99% of the sun's damaging UV rays

3D injection-molding ensures distortion-free view throughout the entire field of vision

Innovative new ribs on top and bottom edge improve rigidity and eliminate bending

Improved shield locking mechanism

Comes equipped with Pinlock® EVO fog-resistant system
Q-RE Base Plate System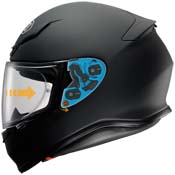 Facilitates quick and smooth shield changes

SHOEI's patented spring-loaded technology ensures a wind and waterproof seal

Strengthened springs for more precise functionality

Five-stage rotating dial for shield/base plate fine-tuning
Pinlock® Anti-Fog System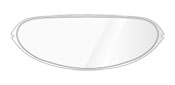 The all-new RF-1200 comes equipped with a Pinlock® EVO Fog-Resistant System, offering the most effective fog-resistant protection in existence. A simple, one-step installation process makes every Pinlock® lens easy to install.
Multi-Ply Matrix AIM+ Shell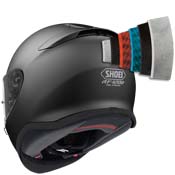 Proprietary technology integrates a six-ply matrix

Hand-laid interwoven layers of fiberglass with organic fibers and resin

SHOEI's strongest, lightest, most elastic shell
E.Q.R.S.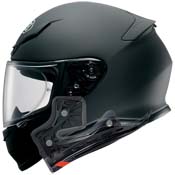 Allows emergency medical personnel to easily and safely remove the cheek pads from an injured rider's helmet

Helmet can be gently removed from an injured rider's head with minimal load placed on his/her neck
3D Max-Dry System II Interior
Fully removable, washable, replaceable and adjustable

Max-Dry System II liner material absorbs and dissipates sweat twice as fast as traditional nylon

Multi-layer cheek pads available in multiple sizes for improved comfort and helmet stabilization

Three-dimensionally shaped to match the contours of a rider's head
Dual-Layer / Multi-Density EPS Liner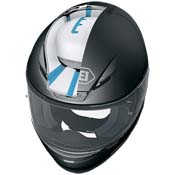 Provides enhanced impact absorption by utilizing varying densities of foam

Allows cooling air to travel unrestricted through tunnels created in the EPS

Precise placement of multi-density EPS material yields a more compact, lightweight design
Chin Curtain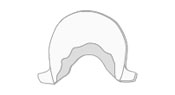 The chin curtain can be inserted into the lower edge of the chin bar to reduce wind turbulence and noise.
Breath Guard
The breath guard can be inserted into the upper edge of the chin bar to help reduce fogging by diverted exhausted breath down out the bottom of the helmet.
Ear Pads
The RF-1200 is equipped with removable ear pads.
5-Year Warranty
5-Year Warranty From Purchase Date. 7-Year Warranty From Helmet Manufacture Date. Whichever comes first.
Accessories:
Pinlock ® EVO Shield and Insert (Included)
Ear Pads (Included)
Breath Guard (Included)
Chin Curtain (Included)
Nylon Drawstring Helmet Bag (Included)
Optional Shields Available
Certification: DOT Approved, SNELL M2015
Weight: Approx 3.50 lbs
Shape: Intermediate Oval