Shoei X-14 Marquez 6 Race Helmet TC-1
The difference between a race win and second-place finish can be decided by mere milliseconds, which is precisely why World Champions like Marc Marquez choose the all-new SHOEI X-Fourteen to help shave time off of every lap. Track certified by the fastest rider on the planet, the X-Fourteen Helmet is a proven race weapon for those who aren't willing to sacrifice a single detail when it comes to high-end performance. Like the handcrafted race bikes that dominate MotoGP's premiere racing circuits, every detail of the X-Fourteen was carefully designed, tested and fine-tuned until this final, uncompromised masterpiece was born. The X-Fourteen—When milliseconds count.
TECH SPECS:
Design Concept
• Developed utilizing rider input from the world's top racers like Marc Marquez and Bradley Smith
• Tested in SHOEI's wind tunnel for next-level aerodynamics and ventilation
• Enhanced high-speed stability while reducing drag and negative forces
• Ventilation performance features innovative cheek pad cooling system
• Patent-pending adjustable/rotating liner components for customizable fit and greater field of vision
Aerodynamics
• Refined in SHOEI's wind tunnel to yield the most aerodynamic and stable X-Series helmet yet
• All-new shell shape along with a completely redesigned, patent-pending Rear Stabilizer
• Standard Rear Flaps can be replaced with optional, narrower flaps to customize aerodynamics
• Strategically placed ridges along the top shell and chin bar reduce turbulence and drag
• Maximizes high-speed stability while reducing negative forces to the rider
Ventilation Performance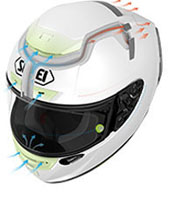 • Boasts six (6) air intakes and six (6) exhaust outlets optimized for maximum airflow
• All-new cheek pad cooling system
• Newly positioned side air outlets improve hot air expulsion
• Wind tunnel-optimized to excel in the tucked racing position, even behind windscreens
Rear Stabilizer / Rear Flaps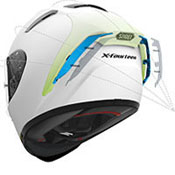 • Redesigned, patent-pending Rear Stabilizer maximizes high-speed stability while reducing negative forces on the rider
• Standard Rear Flaps can be replaced with optional, narrower flaps to customize aerodynamics depending on rider preference and track demands
CWR-F Race Shield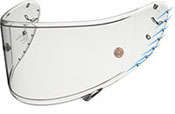 • Protects from 99% of the sun's damaging UV rays
• Innovative new ribs on top and bottom edge improve rigidity and eliminate bending
• Exclusive, patent-pending Vortex Generators reduce air friction
• All-new double shield locking mechanism prevents unwanted shield openings
• Provides a flat surface to accommodate racing tear-offs
• Comes equipped with Pinlock® EVO fog-resistant system
QR-E Base Plate System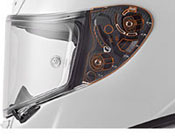 • Facilitates quick and smooth shield changes • SHOEI's patented spring-loaded technology ensures a wind and waterproof seal
• Strengthened springs for more precise functionality
• Innovative five-stage rotating dial for shield/base plate fine-tuning
Multi-Ply Matrix AIM+ Shell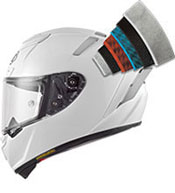 • Proprietary technology integrates a six-ply matrix
• Hand-laid interwoven layers of fiberglass with organic fibers and resin
• SHOEI's strongest, lightest, most elastic shell
Dual-Layer / Multi-Density EPS Liner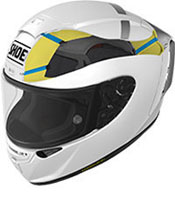 • Provides enhanced impact absorption by utilizing varying densities of foam
• Allows cooling air to travel unrestricted through tunnels created in the EPS
• Precise placement of multi-density EPS material yields a more compact, lightweight design
3D Max-Dry Custom Interior
• Fully removable, washable, replaceable & adjustable
• Exclusive Max-Dry material absorbs and dissipates sweat twice as fast as traditional nylon
• All-new cheek pad cooling system delivers refreshing air to rider's cheek area
• Patent-pending rotating liner components increase upper field of vision when in tucked racing position
• Optional sizes of each section of the center pad for a completely customizable fit
• Three-dimensionally shaped to match the contours of a rider's head
Emergency Quick Release System (E.Q.R.S.)
• Allows emergency medical personnel to easily and safely remove the cheek pads from an injured rider's helmet
• Helmet can be gently removed from an injured rider's head with minimal load placed on his/her neck
4 Shell Sizes
While some of other brands rely on foam padding for fitting a wide range of customers, SHOEI offers an industry-leading four shell sizes in the X-Fourteen to ensure a custom fit for heads between the sizes of XS-XXL.
Chin Curtain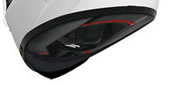 The chin curtain can be inserted into the lower edge of the chin bar to reduce wind turbulence and noise.
Breath Guard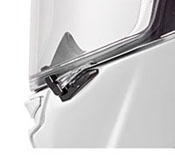 The breath guard can be inserted into the upper edge of the chin bar to help reduce fogging by diverted exhausted breath down out the bottom of the helmet.
Ear Pads
The X-FOURTEEN is equipped with removable ear pads.
Accessories:
Pinlock ® EVO Shield and Insert (Included)

Ear Pads (Included)

Breath Guard (Included)

Chin Curtain (Included)

Nylon Drawstring Helmet Bag (Included)

Optional Shields Available
Certification: DOT Approved, SNELL M2015
Weight: 3.6 lbs/1634 grams (approx, based on Size Medium Solid Color)
Shape: Intermediate Oval