Shoei Neotec 2 Respect Flip Up Modular Helmet TC-1 TC-5 TC-10
An every-occasion helmet with the adaptability to excel no matter where your next journey takes you, the NEOTEC II Splicer does it all with style and precision. The convenient "flip-up" versatility of a true two-in-one helmet combined with next-level aerodynamics, an internal sun shield, the Pinlock® EVO fog-resistant system, and the ability to seamlessly integrate with the all-new SENA SRL Communication System, the NEOTEC II is the pinnacle of modular helmet design for today's hybrid motorcyclists.
TECH SPECS:
Design Concept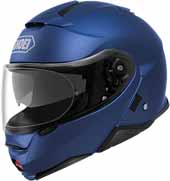 Seamless "flip-up" versatility of a true two-in-one helmet

Wind tunnel-tested shell aerodynamics and noise-reduction technology

Designed for seamless integration with SENA SRL communication system

Convenient flip-down internal sun shield

Next-level modular helmet design for today's hybrid motorcyclists
Intercom Ready Design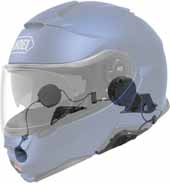 Designed for seamless integration with the SENA SRL Communication System

SRL is specially developed for the Neotec II, and is sold exclusively by Sena

Flip-up Chin Bar and Face Shield
Safety and protection of a full-face helmet

While at rest, converts instantly into an open-face configuration

Large lock release button facilitates easy handling with gloves

Lightweight chin bar/face shield rotate with smooth precision on a variable eccentric-axis, yielding the seamless versatility of a true two-in-one design

All-new dual locking system for improved holding power when in the fully-opened position

Aerodynamics
Wind tunnel-tested aerodynamics optimized for varying riding positions

Shell-integrated spoiler has been reshaped/repositioned to further reduce lift and drag

Top air outlet serves as a spoiler while in an upright riding position

Newly designed 'Aero Deflector' for improved chin bar aerodynamics
360º Pivot Locking System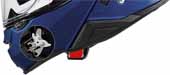 Road tested and made of high-quality stainless steel components

Safe and secure closure when chin bar is in the down, locked position

Noise-Reduction Design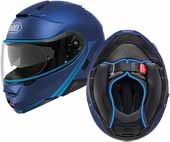 All-new 'Noise Isolator' cheek pads deflect wind and reduce unwanted noise

New airtight window bead and the chin bar's 'Vortex Generator' lip reduce noise and manage airflow around the helmet

Enhanced shell shape improves noise control and aerodynamics

Refined in SHOEI's in-house wind tunnel

Reduction of unwanted wind and road noise

CNS-3 Shield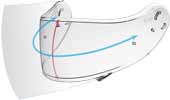 All-new design provides improved air/water sealing and noise reduction

Protects from 99% of the sun's damaging UV rays

3D injection-molding ensures distortion-free view throughout the entire field of vision

New airtight window beading drains/prevents water from entering helmet

Comes equipped with a Pinlock® EVO fog-resistant system
CNS-3 Base Plate System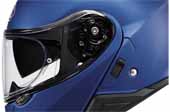 Facilitates smooth and easy shield changes

SHOEI's patented spring-loaded technology ensures a wind and waterproof seal

Internal Sun Shield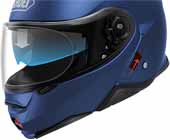 Built-in QSV-1 sun shield gives riders instant relief from sun glare in one quick motion

Large, easily located switch activates the 3D injection-molded inner shield

Distortion-free view blocks 99% of the sun's damaging UV rays

Forehead area of outer shell is raised slightly to accommodate the internal sun shield, allowing for the integrity of the helmet's inner EPS liner to remain intact

Exceeds ANSI Z80.3-2010 Standard for non-prescription eyewear
Ventilation Performance
Large upper and lower vent shutters for ease of use with riding gloves

Expanded 3-position upper air intake for increased ventilation performance

All-new exhaust outlets flank upper air intake for improved hot-air clearing

Wind tunnel-optimized for dramatically-improved cool-air intake and hot-air expulsion
Multi-Ply Matrix AIM Shell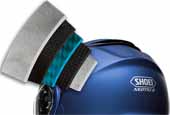 Proprietary technology integrates a five-ply matrix

Hand-laid interwoven layers of fiberglass with organic fibers and resin

Shell-integrated spoiler with consistent shell thickness guarantees proper strength and weight

Multi-Piece EPS Liner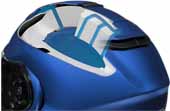 Provides enhanced impact absorption by utilizing varying densities of foam

Allows cooling air to travel unrestricted through tunnels created in the EPS

Precise placement of multi-density EPS material yields a more compact, lightweight design

Micro Ratchet Chinstrap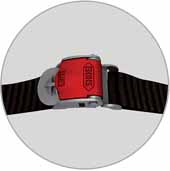 Patent-pending 100% stainless steel interlocking mechanism

Quick and smooth closure and opening

Comfortable and easily-adjustable

Interior Comfort System
Fully removable, washable, replaceable, and adjustable

Multi-layer cheek pads for comfort and helmet stabilization

Three-dimensionally shaped to match the contours of a rider's head

New 'Noise Isolator' cheek pads deflect wind and reduce unwanted noise
5-Year Warranty
5-Year Warranty From Purchase Date. 7-Year Warranty From Helmet Manufacture Date. Whichever comes first.
Accessories:
Breath Guard (Included)

Chin Curtain (Included)

Ear Pads (Included)

Pinlock® EVO Shield and Insert (Included)

Nylon Drawstring Helmet Bag (Included)
Certification: DOT Approved
Sizes: XS, S, M, L, XL, 2XL
Weight: 4.09 lbs / 1855 grams (approx. for Size Medium Solid Color)
Shape: Intermediate Oval